I believe that something can come from nothing & that there's always a way to simplify your life and budget. -Cherie Lowe
Today's guests on the Born to Be podcast is the Queen of Free, Cherie Lowe and her husband Brian, who are just a couple days away from releasing their second book – Your Money, Your Marriage – The Secret to Smart Finance, Spicy Romance, and Their Intimate Connection. Does Financial Foreplay exist? After listening to this episode, you'll know that it does!
Brian knows as a family attorney that disagreements about finances are one of the leading causes of divorce. And he and Cherie are doing something about it. In the book and in this episode, the Lowes coach couples to learn to use the same language, find a shared strategy and discover dreams together. Each chapter closes with thoughtful questions and activities to further encourage and support the reader's financial and relationship goals.
No matter your situation, there is hope for your marriage, for your finances and for your future!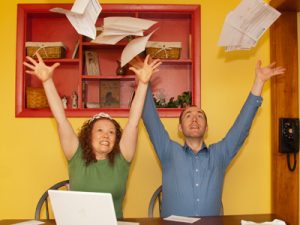 Your Money, Your Marriage
Money makes people funny and consequently is one of the top reasons in America for divorce. Husband and wife duo – Brian Lowe, a family law attorney, and Cherie Lowe, a personal finance blogger – have teamed-up again to share how effective financial communication between spouses leads to not only financial freedom but a deeper intimacy with one another. In Your Money, Your Marriage: The Secrets to Smart Finance, Spicy Romance, and Their Intimate Connection (on sale Sept. 25, 2018) the Lowes restore hope and sanity to overwhelmed husbands and wives, delivering a liberating process of mending hearts and pocketbooks.